(NOT FOR NEW DESIGNS, See IDP100 Series)
ADP100 Series
1/4 – 5 HP Non Regenerative
DC Motor Controls
General Description • Standard Features • Specifications • Model Ratings/Dimensions • Connections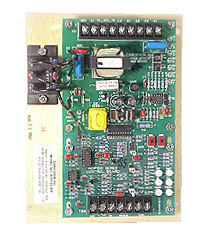 ---
General Description
The Adaptable Drive Package ADP100 Series of D.C. motor controls provides a full range of speed and torque control for 1/4 – 5 HP shunt wound and permanent magnet D.C. motors. Designed for quality and performance, these drives are targeted for the OEM and Panel Builder to meet their system requirements. Two units cover the full horsepower range.
The NEMA type K single phase power bridge is precisely controlled to give the best in speed and torque regulation. Quality components, conservative heat sinking, inner current loop design, unique high frequency gating, and modular construction all combine to produce dependability, simplified installation, and competitive pricing.
The Adaptable Drive Package ADP100 Series of D.C. motor controls are also offered in models for Run-Brake and Contactor Reversing operation. Six models in two physical sizes cover a horsepower range from 1/4 to 5 HP.
Each model is supplied chassis-only complete with an ADP102 or ADP105 motor control installed on the option chassis. In each horsepower range, the Run-Brake models are physically interchangeable with the Contactor Reversing models.
The ADP100 Series drives have been replaced by the drop in replacement IDP100 Series drives
For more information about this product,
call 1-888-286-8614 or e-mail us today!
Typical Applications for the Adaptable Drive Package ADP100 Series:
> Nonregenerative
> Speed Control
> Torque Control
> 1/4 – 5 HP Range
> High Frequency Gating
> Run-Brake and Contactor Reversing

---
General Description • Standard Features • Specifications • Model Ratings/Dimensions • Connections
Back to DC Drives • Back to Product Line
ADP100 Series
1/4 – 5 HP Non Regenerative DC Motor Controls