Field Regulator (DC Current Regulator)
FR1000-000 / FR3500-000
General Description • Standard Features • Specifications • Model Ratings/Dimensions • Connections
---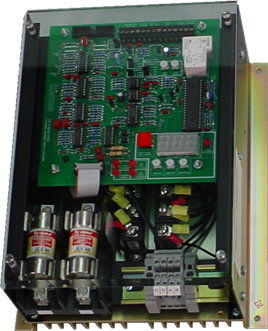 General Description

The Carotron FR1000-000 and FR3500-000 Field Regulator Units are designed to provide current regulation for DC motor or generator field windings rated from 0.2A-10A and 1.5A to 35A respectively.  These units are easily set up as constant horsepower "crossover" controls to give a motor extended speed operation.  Also, they can be set up as alternative field current supplies in single or multiple motor applications.
These units will operate from a single-phase 50/60 Hz line between 230 and 460 VAC, + 10 %, with no line voltage programming required.  They have intuitive set-up with three basic adjustments: MIN CURRENT, MAX CURRENT and CROSSOVER set point.  A built-in field current ammeter with 0.1-ampere resolution further simplifies set-up.
An independent DC tachometer scaling circuit is included. When the FR1000-000 and FR3500-000 are used in a constant horsepower application with CAROTRON drives from the CHOICE or ELITE series, the extended speed tachometer voltage can be easily scaled to "fit" the standard 7 volt-per-thousand tachometer input range on these models. This alleviates the need to calculate drive resistor values to be  added for scaling the tachometer input for models that do not have an adjustable tachometer input range.
Current control resolution is optimized with a programming jumper that selects a 2, 4, 6, 8, 10 or 15, 20, 25, 30 or 35 ampere range.  There's no need to calculate the number of turns of wire to thread through a current sensor.
Fuses are provided for protection of the components in both the low voltage power supply and high current section.
FAULT contact (opens on FAULT) provided for ARMATURE OVER VOLTAGE or FIELD UNDER CURRENT fault conditions.
VIEW INSTRUCTION MANUAL
View Brochure
For more information about this product,
call 1-888-286-8614 or e-mail us today!
---
General Description • Standard Features • Specifications • Model Ratings/Dimensions • Connections
Back to DC Drives • Back to Product Line
Field Regulator
FR1000-000 / FR3500-000