| | |
| --- | --- |
| Control Systems Application Guide | |
---
Previous " "Non-contact" Loop Control" • Back To Index • Next "Load Regulated Feeder Control"
---
Traverse Winder Drive
The need often occurs in product winding to control the pitch (spacing between each lay of web) on a traversed winder.  This is especially important with narrow webs such as wire and fiber to prevent the web from over-lapping itself, making it very difficult to unwind for the following process.  In these cases the pitch may be quite wide.
Because many of the winders of this type are center driven, the pitch must be adjustable and corrected for the change in speed of the winder as its driven core is slowed to compensate for roll build up.
The following diagram Figure K.1 shows a common scheme for this application.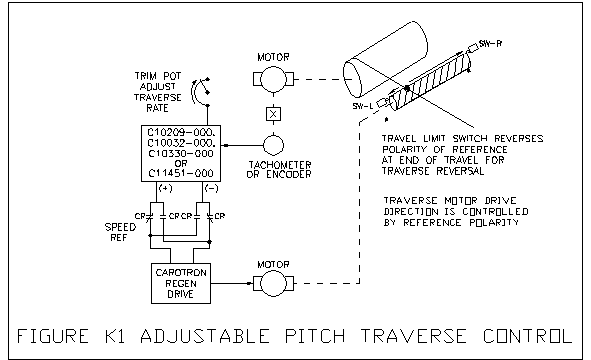 The traverse motor is connected to the traverse winder drive or mechanism and is cycled by travel limits.  Use of a DC regenerative drive allows reversing by switching the polarity of the reference command.  The reference is developed by a voltage or frequency follower circuit, slaving the adjusted pitch to the winder speed by means of a motor mounted tach or encoder on the winder motor.
APPLICABLE PRODUCTS
C10032-000 SIGNAL FOLLOWER CARD
D10562-000 PRECISION BIPOLAR ISOLATION CARD
C10330-000 FREQUENCY TO VOLTAGE CONVERTER
C11451-000 PRECISION FREQUENCY TO VOLTAGE CONVERTER
SIM200-000 SIGNAL ISOLATION MODULE
---
Previous " "Non-contact" Loop Control" • Back To Index • Next "Load Regulated Feeder Control"
---
Go to Product Line • Go to DC Drives and Accessories • Go to System Interface Components
Control Systems Application Guide Index (Traverse Winder Drive)