Web Tension Control
Web tension control is often a key component for success with any type of heavy duty machinery used in web handling.  Controlling the speed and torque of the machine's motor goes hand in hand with controlling the web tension.  Every web has limits and can even break under too much pressure, but the tension also directly affects the web's behavior as it moves through the production process.  Defects or wrinkles may appear in the material without the appropriate tension controller in place.

What is a Web?

It is a thin, long or continuous material, with enough flexibility that enables it to be changed to various forms.  Some examples include film, textiles, paper, foil and nonwoven material.  The converting industry involves processing the material from one form to another.  Converting may include a number of production processes such as embossing, coating, printing, laminating, treating, slitting, punching, sheeting, die cutting, calendaring, winding and unwinding.  The material is transferred from one roller (rotating cylinder) to another, and a web that is wound in roll form is also called a "roll" in the converting industry.
Tension Build-Up
Tension builds as web material moves from zero speed to its final speed.  The tension forms either through the pulling of the material at one end (e.g. rewinding) or by the increase of drag created by a brake, clutch or drive when the material is being unwound from a roller.
Web Tension Processed Control Methods
Various methods of control are used to ensure producing a roll of better quality.  For example, the taper tension function decreases the tension of the web in the rewind zone as the diameter of the roll increases.  This eliminates crushed cores and telescoping as well as helps avoid having rolls that are too tight or too loose.  Sometimes a soft starter may be added to the converting machine's motor to prevent or minimize damage to the material upon start up.
Today, most industrial machines operate with their own motor in place (a DC or AC  motor), with a motor drive and/or controller in place.  Open-loop or closed-loop control systems are implemented to measure and control the web tension.  With open-loop web tension control, a device is installed to measure tension (e.g. tension transducer).  The measurement is available for reading on a meter or some type of display.  Using this measurement, the operator of the machine may adjust the device manually to match the tension to the desired value as closely as possible. With closed-loop control, an automatic controller is used to measure the tension many times each second.  The output from the controller is sent to the device and adjusted to an error signal at a constant loop rate.  The error signal is a signal that is generated when the controller compares the actual tension value to a desired set point (set by the machine's operator before a run).
Buying Web Tension Controllers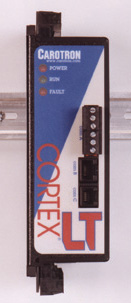 Some terms to familiarize yourself with when buying web tension control products include PID control, microcontroller, tension load cells, load cell amplifiers, and dancer control.  Overall, installing a web tension controller can decrease the variation of tension significantly.  This provides for more stable production of the material as it changes properties, thus, reducing the number of defects and the quantity of loss material during production.  And the end result?  A healthier bottom line for your plant or facility due to time savings and reduced maintenance costs!
Carotron offers a number of products to help with web tension control needs.  One example is the Cortex LT digital microcontroller that can be used with many applications.  It is driven by a powerful digital signal processor (DSP) and comes with compatible Link Software that allows for specific firmware to be selected, configured and downloaded.  The software also makes the following tasks possible:  monitoring, calibration, program storage and I/0 simulation. Carotron also now offers a number of Din-Rail Mountable modules that perform various control functions.
CALL CAROTRON, We Can Help! Contact a customer representative or engineer at Carotron, Inc. at 1-888-286-8614, and let us review your application and offer the right components to do the job.
Resource/Copyright Info: This motor control article about web tension control is under © Copyright of Carotron, Inc., your source for high quality DC and AC motor drives and other industrial motion control products to keep your operation running smoothly.