N3 Series Teco Drives
by Teco Westinghouse
General Description• Standard Features • Specifications • Dimensions/Weights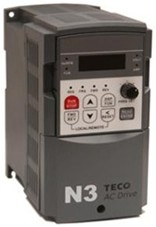 ---
General Description
The N3 Series Teco AC Drive is a compact, low cost, and versatile motor drive that can operate in constant torque, variable torque, or sensorless vector modes for maximum flexibility in a variety of applications.
>  Sensorless Vector AC Drive
>  PID Control with Sleep Mode
>  Simple Full Featured Operator with Speed Potentiometer
>  PC Programming Software
>  RS485 Interface Option
>  EEPROM Program Copy Unit
>  .5 to 3 HP, 230V, 50/60 Hz, 1-Phase
>  .5 to 40 HP, 230V, 50/60 Hz, 3-Phase
>  1 to 75 HP, 460V, 50/60 Hz, 3-Phase
>  UL, cUL, and CE Approved
Typical Applications:
>  Fan and pump systems
>  Larger conveyors
>  Mixers
>  Centrifugal applications
>  OEM products
Call 1-888-286-8614 to order N3 Series Teco AC drives by Teco Westinghouse to discuss your application needs today.


For more information about this product,
call 1-888-286-8614 or e-mail us today!
---
General Description• Standard Features • Specifications • Dimensions/Weights
Back to AC Drives• Back to Product Line
N3 Series Teco Drives
by Teco Westinghouse