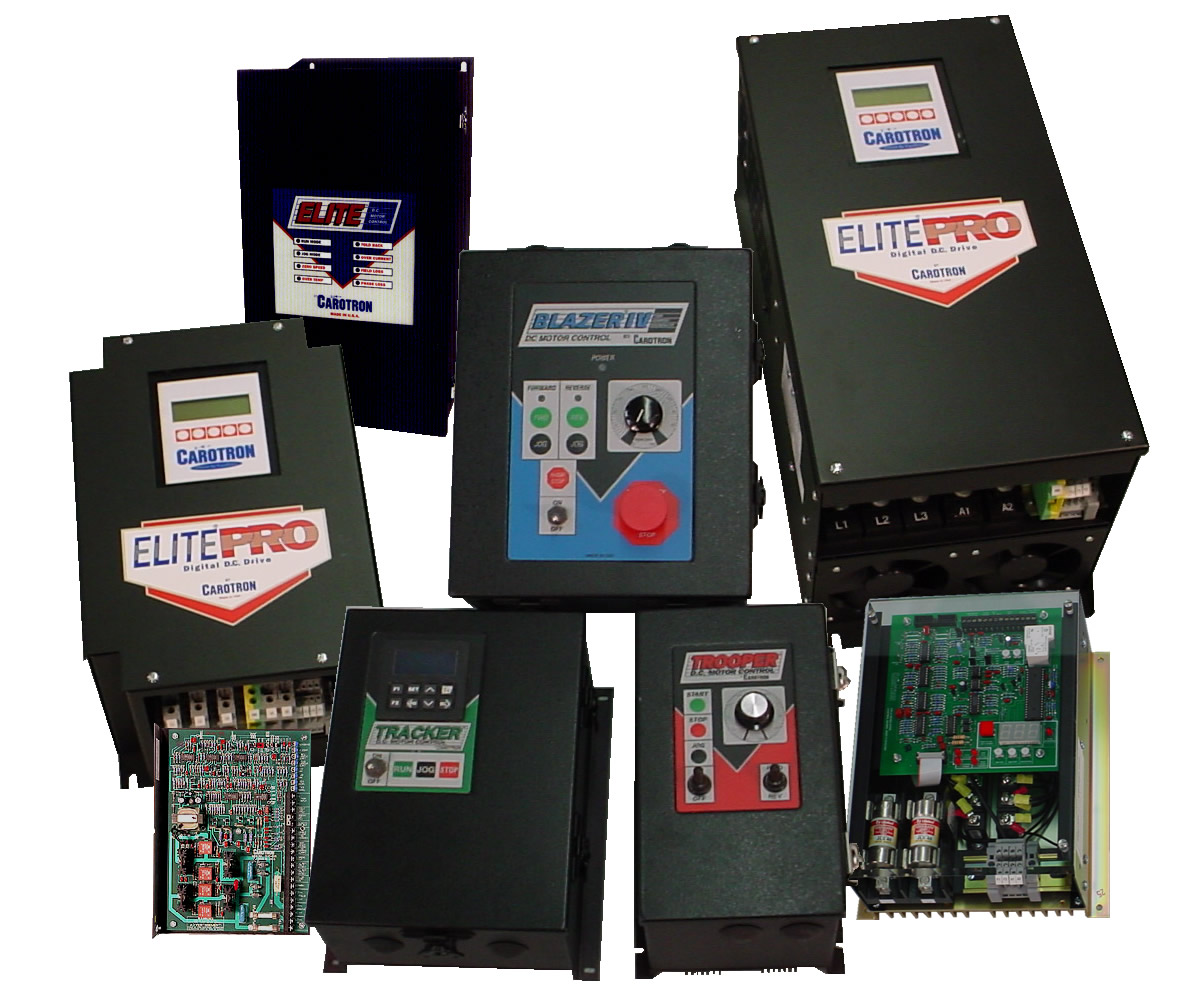 D.C. Drives & Accessories
Click Here for Entire Product List View
D.C. DRIVES
View Carotron brand DC drives below.  Call 1 (888) 286-8614 for more information or to become a distributor for Carotron. Contact us today!

D.C. DRIVES BY KB ELECTRONICS

D.C. DRIVE ACCESSORIES
ISOLATION TRANSFORMERS
Single Phase Transformers  |  Three Phase Drive Isolation Transformers
DC Drives
DC motor control has been applied in industrial applications since the advent of the "Ward Leonard" system for using motor-generator (MG) sets to produce a variable DC voltage for control of industrial DC motors. These MG set systems were bulky and provided very simplistic control from one common source to drive multiple motors.  In the 1960's with the advent of silicon controlled rectifiers (SCRs), the new age of DC motor control began.  These SCR devices allowed for the design of compact DC drives that could provide control of individual motors directly from utility power.  Since the 1960's, improvements in the SCRs and electronic components have allowed DC Drives to evolve from simplistic controls to sophisticated analog and digital controllers with armature feedback, tachometer feedback and encoder feedback capability.  Some DC Drives also have Modbus and Ethernet communications capability.
How Do DC Drives Work?
DC Drives generally produce controlled DC output voltage and current for a shunt wound or permanent magnet DC motor by rectifying utility power via an SCR power bridge. For shunt wound DC motors, a separate constant voltage DC output is generally supplied by the DC drive to hold the field flux constant in the motor. In permanent magnet DC motors the constant field flux is supplied by permanent magnets in the motor. With constant field flux, the DC motor speed is controlled by the applied armature voltage from the DC drive.  Also with constant flux, the armature current in the DC motor is proportional to the torque produced by the motor.  Since the motor torque is controlled by armature current, many DC Drives use this characteristic to regulate torque output for winding and tensioning applications or limit toque for starting to protect motors and mechanical systems.
Some DC Drives have SCR power bridges that allow the motor armature voltage to be either positive or negative and the motor armature current to be either positive or negative. These types of DC Drives are called Regenerative DC Drives. They can control the speed and direction of the motor by applying the appropriate voltage polarity. They can also supply motor working torque or absorb torque from the motor by directing motor armature current from the Utility power to the motor for working torque or from the motor back to the Utility power to absorb motor toque. This ability of Regenerative DC Drives allows them to be used to control high inertia loads, high cyclical loads, and tensioning for unwind applications.
A special group of DC Drives supply the standard armature control functions along with a variable output for the motor field. By adjusting the motor field current, the motor speed characteristics can be electronically modified. As field current is reduced, motor speed increases and motor torque decreases.  This characteristic allows DC Drives to be used as spindle drives in textile warper and slasher applications as well as for saws and grinders.
Why Select a DC Drive?
With the advent of AC Drives, many people have difficulty deciding whether a DC Drive or an AC Drive is best for their application.   Here are some points to consider in making that decision:
DC Drives use SCR's that are more rugged than IGBT's, so DC Drives are very reliable. DC drives typically have a 550C operating temperature for chassis mount units while AC Drives typically have a 45 to 500C rating.
DC Drives have superior torque at low speeds compared to general purpose AC Drives. More expensive and more complicated open loop vector AC Drives or closed-loop vector AC Drives are required to produce low speed torque. Most AC Drive low torque applications require an AC motor designed specifically for inverter or vector duty in order to dissipate the heat produced in the motor at low speeds.
DC motors typically have a 20:1 constant torque speed range through 5 HP vs general purpose AC motors which typically have a range of 2:1 to 6:1 constant torque speed range. DC Motors rated 5 HP and above generally have a 2:1 constant torque speed range and can be extended to 10:1 constant torque range with auxiliary blower cooling. Inverter duty and vector duty AC motors can achieve a 1000:1 constant torque speed range.
DC Drives are very good for torque applications since the armature current is directly related to motor torque when the field flux is held constant. Toque control in an AC Drive is a complex calculation and generally requires a closed-loop encoder feedback vector drive for torque control.
DC drives handle high inertia loads very well. AC Drives are inherently regenerative and most AC Drives can easily trip when applied with high inertia loads unless dynamic braking is added to the unit.
DC Regenerative Drives are generally more cost effective than AC Regenerative Drives. AC Regenerative Drives typically have two drives built into one unit to handle the regenerative energy.
When upgrading existing equipment with high horsepower components like extruders, if the existing motors are DC, it is typically more economical to refurbish the motor and install new DC drives than change to an AC Drive which requires changing out the drive, the motor and all of the wiring between the motor and the drive.
DC Drives at Carotron
Carotron supplies DC regenerative and non-regenerative drives for all application requirements. We make our DC Drives in compact chassis models and offer a variety of enclosures. We offer various standard horsepower ratings from fractional to 700 HP and custom units to 2500 HP.
DC Drives from Carotron are suitable for the following applications:
Extruders
Web control
Textile machines
Wire drawing machines
Conveyors
Packing machines
Feeders
Printing
Punch Presses
And more
Contact Carotron for Your DC Equipment
Carotron wants to be your one-stop-shop for all DC equipment. Give us your machine requirements and we can help you find the best drive for your application.
With 31 years of experience handling DC equipment, Carotron can offer the perfect solution for your electronic drive components. Carotron supplies DC and AC motor control devices, integrated systems and accessories to the industrial marketplace. Contact us today for more information about our products and services.
TROOPER®, BLAZER®, ELITE®, CHOICE®, CORTEX® AND SONICTRAC® ARE REGISTERED TRADEMARKS OF CAROTRON, LLC.
---
3204 Rocky River Road • Heath Springs, SC 29058 (USA)
Phone: (803) 286-8614 • (888) 286-8614 • FAX: (800) 286-6063
e-mail: saleserv@carotron.com