DIN-Rail Mount Interface Cards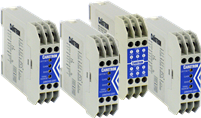 > Accel/Decel Module
> PI Loop Module
> Multiplier Module
> Divider Module
> Frequency Isolation Module
> Signal Isolation Module
> Load Cell Amplifier models
> Frequency-to-Voltage Converter
> Voltage-to-Frequency Converter
> Electronic Relay Module Motor-Operated Potentiometer (MOP250-000)
We have digitized our complete line of System Interface cards to offer a more compact solution for your system interface needs. Our new Modular System Interface products provide standard off the shelf building block solutions for many application requirements. These units are din rail mountable and powered by 24VDC.
Carotron's Surplus Products

We recently added a Surplus Products page…check out some of the products and buy at a great price:
- Yaskawa CIMR-PCU40P2
- Yaskawa CIMR-PCU23P7
- Yaskawa CIMR-PCU21P5
Check out our Surplus Products here…
Electronic Repair Service
NEW from Carotron!
Carotron is now offering Fully Integrated Industrial Electronic Repair Services for Yaskawa repair, Baldor repair, Siemens repair, Danfoss repair, Reliance and other well known manufacturers of electrical components, drives, motors, etc.  If you need reliable electronic repair services, we offer….
> FREE Cost Evaluation – No Up Front Expenses
> Outstanding "In Service" Warranty
> Cost Effective Repairs to OEM Specifications
Call 1-888-286-8614 to learn more, or visit the new electronic repair service section on our website today!
DSI / Dynamatic Eddy-Current Drives, Controllers and Brakes
Now available at Carotron!
Carotron now offers products by Drive Source International, Inc. or DSI/Dynamatic®, formerly Eaton Dynamatic.  DSI/Dynamatic® is a manufacturer of Dynamatic® brand products, parts and services that stocks thousands of products and parts, including Eddy-current drives, factory-warrantied replacement parts.  DSI/Dynamatic® also provides an environmentally-friendly alternative through its preventative maintenance program, remanufacturing services, and upgraded digital controls for all brands of vintage Eddy-current drives.
Call 1-888-286-8614 to learn more, or visit the new Dynamatic section on our website today!